Berita baik untuk rakyat malaysia yang bergelar
blogger
. Sekiranya anda salah seorang penulis blog yang
'Sehati Sejiwa
' ayuh kita sama-sama luahkan rasa bangga menjadi rakyat Malaysia menerusi
Peraduan Merdeka!Merdeka! Blogger Contest
anjuran
Lazada
bersempena sambutan Hari Kebangsaan yang bakal tiba 31 Ogos 2017.
Sangat Mudah Sertai Peraduan Merdeka!Merdeka ! Blogger Contest
Apa Yang Menanti Anda? Sudah tentu hadiah menarik yang ditawarkan seperti berikut:
1st Prize: 1 x RM600 LAZADA Shopping Voucher
2nd Prize: 2 x RM300 LAZADA Shopping Voucher
3rd Prize: 3 x RM200 LAZADA Shopping Voucher
Di sini Madam ingin kongsikan bersama anda betapa bertuahnya menjadi anak bangsa Malaysia!
What Do You Love About Being Malaysian?
Being Malaysian is special kind of something. I believe that everyone is all about the respect and togetherness. We love our country not because the richness of the food culture but the way we stay connected and rising together!
Let's Choose Your Local Favorite Brand Here
I always love something different. And that must be some kind of adventure in it when I wear it. My favorite local brand is
Carlo Rino
. Here I share my two selected product which are
Carlo Rino Back Pack
and
Carlo Rino Wedge Heel Round Toe Pumps (Brown)
. See the images below.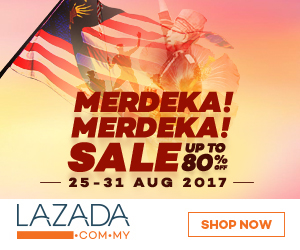 To all Malaysians ... wait no more!
Stay connected with Lazada and rising together by being lucky Malaysians at
Merdeka! Sale that will take place from 25 August to 31 August.